Description
I will organically promote your youtube video and make it rank on page 1
ONE OF GRAMEENEE BEST ORGANIC YOUTUBE VIDEO PROMOTION SERVICES IS BACK, AND EVEN BETTER THAN BEFORE!!! SUCCESSFULLY WORKING WITH OVER 2.300 CUSTOMERS, WITH MANY OF THEM RETURNING AND OVER 1200 FIVE STAR RATINGS WE ARE READY FOR YOUR ORDER AND GOT WHAT IT TAKES TO SATISFY YOUR NEEDS
What can you expect of the Basic Package:
I will promote your YouTube Video organically via postings on my personal & business Social Medias (Instagram & Facebook) with a range of over 2 Million people to grant it the attention it deserves!!! Due to my successes in the Entertainment Industry I have a huge real following which just waits to see your amazing content in my stories.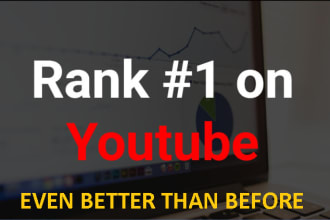 What can you expect of the Standard & Premium Package:
Basic Gig + I will optimize your Creator Video and make it rank GUARANTEED on Page 1 of keywords relevant to your target audience for 7 (Standard) or 14 DAYS!!! (Premium). You will get the best video SEO service (Optimization) & 100% satisfaction guarantee out of my service!
Rank on Page 1
Video stays on the first page for at least 6-12 months
100% organic and legal methods
99% success rate.
NO BOTS, NO SCAM
Please contact me before ordering for the best experience! 🙂